With the year coming to an end, we can look back at some amazing achievements and get ready for an even more eventful 2017 racing season.
To highlight a few accomplishments:
We opened our physical location this year.
The RSRBRZ competed in its first hill climb this past summer.
We sponsored a 2016 Subaru STI piloted by Agatino Fortunato who took home the title of 2nd Place Super Production Driver in Rally America. Tino is absolutely dedicated to his passion. He, literally, lives and breathes racing. He did everything possible to attend almost every single rally this past season and we were glad to have contributed to his success.
With that, we can now move forward to an exciting 2017 year. We would like to include more drivers with us along our journey and that is where we come to our sponsorship application. Over the past years, we receive many inquiries about sponsoring vehicles. Please continue reading for a few details to keep in mind when considering asking or applying for sponsorship from us or any other business.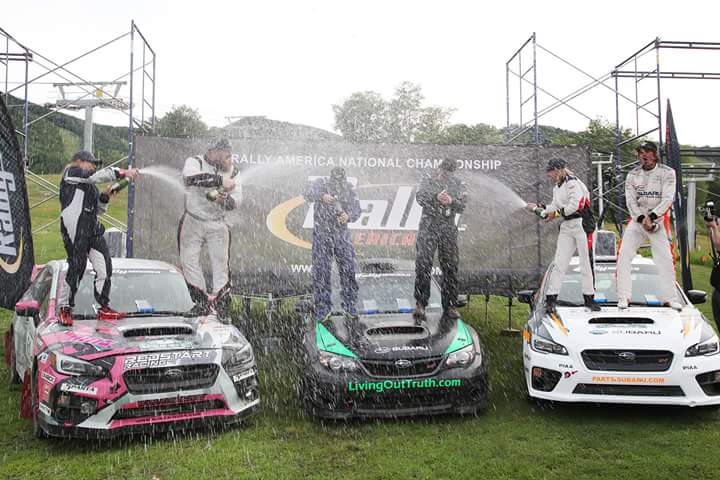 Sponsorship isn't just about you and your car….
While being sponsored is exciting and can lead to a lot of opportunities, it is important to understand that it is a relationship between you and your sponsor. A business that offers sponsorship is doing so as a marketing expense, essentially. It is a business decision they make to advertise their name and reach out to more potential customers. It is expected that the vehicle and/or driver they sponsor will accurately reflect their business. They expect that you, your vehicle, and activities will continue to advertise for them after the initial investment; hence, why you hear drivers plug their sponsors when talking to reporters, etc.
So, what do you have to offer?
Now that you have a little insight on the business aspect of sponsorship, the next item to pay attention to is, "What do you bring to the table?". Why should a sponsor pick you up and give you money, discounts, or whatever else the agreement entails?
It's great that you just bought a new car or participate in car shows or compete in events, but are those activities relevant to the business you are soliciting for sponsorship? If you are looking for free parts and a free build on your car, you're going to find yourself with an empty inbox at best. If the business doesn't participate in the types of builds or car events that you do, that should be a clue that they might not be the right business from which to ask for sponsorship. However, if the business does participate in the same activities, perhaps that is how you heard of them, then that's perfect. A partnership might be in your future if you and your own personal goals for your driving and vehicle line up with the goals and achievements of the business.
Lastly, commitment is a two-way street….
As previously mentioned, there is a lot to be gained from becoming sponsored. Make sure the business you ask to receive sponsorship from is as dedicated as you to your goals and can benefit you as much as you serve them. At Redstart Racing, we are very active on social media. So, you'll receive constant shout outs and exposure to yourself, your vehicle, and your activities. We want more people to be excited about motorsports and get involved as well as get out there and try it themselves! We tailor our sponsorship packages to the individual and are committed to seeing our driver's reach their goals whether it be personal or on a national level.
So, if this makes sense to you and you are interested in being part of the Redstart Racing Team, please take a moment and complete an application for sponsorship and let's work together for outstanding achievements!
Please review the following files and submit a picture of your car, along with the completed application to support@redstartracing.com