Redstart Racing
»
Walbro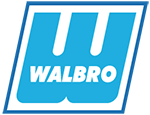 ---
Walbro Categories
---
Walbro
Products

Description:
Walbro HP Fuel Pump: Whether you're upping the boost or stroking your block - more fuel is a MUST! Walbro Fuel Pumps are the industry standard for high performance fuel pumps regardless of make...
More Details »

Description:
Walbro Fuel Pump Install Kit: Make installing your Walbro Fuel Pump a snap with Walbro Fuel Pump Install Kits. Complete with wiring (when applicable), grommets, washed and filter - you can be...
More Details »

Description:
The Walbro Subaru installation kit includes 2 hose clams, new fuel hose, new fuel filter, new rubber stop, and a new wiring pigtail(plug and play).